If you are looking for finding how old is my Mac? Then you are at the right place. In this guide, we will be looking at different methods for finding how old is your Mac.
There are plenty of reasons you need the age of your Mac for like you to want to do troubleshooting, buy a new laptop, and update your Mac to the latest version of macOS.
Also, if you want to trade your Mac, the age of your Mac will help you in pricing same is the case when you are buying a second-hand mac you may need to check how old the mac model is, So you don't mistakenly purchase the old model.
You May Find Useful:
2 Methods For Finding How Old is My Mac
If you want to know the age of your MacBook Pro or MacBook Air, Macbook Mini, or any other Apple product. In that case, you first need to understand some important information about them as apple's way of operating is different from other laptop brands.
The naming of Apple laptops is so simple like they are only using Macbook Air and Macbook Pro as their main lineup of laptops.
They are differentiated with the Year and the period of Year. For example, Macbook pro-Mid 2020 will be different from Macbook Pro 2020.
To see different models of Apple and their specs, part numbers, model identifiers, and more for your Macbook Air, Macbook, Macbook pro, iMac, you can follow the links below to the Apple support site.
Finding the Age for Your Mac Using Apple Menu
The first method for finding how old is my Mac is simple, and you need to do a few easy steps to know exactly in which year your Mac is built.
As we discussed earlier, Apple uses the year and time period to distinguish between Macbook and other models.
Here How to check the model and year of Mac for finding the age of your Mac.
Click on the Apple logo located in the upper left corner
A drop down will appear to click on the About this Mac
A tab will open, having all the information from model name to the year of your Mac.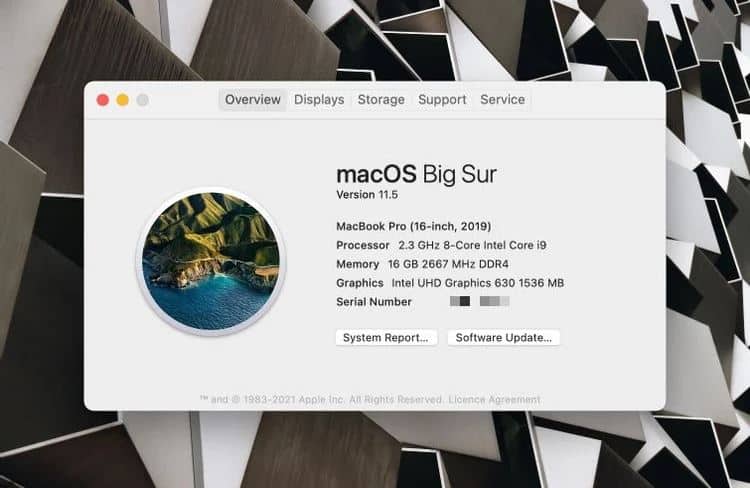 As you can see in the screenshot, the model name is MacBook Pro 16 Inch, and the Year is 2019.
The Year mentioned here is the release date of that particular model, not the date you purchased your Mac.
Also, this tab will have much other helpful information about your Mac, like the amount of Ram, Processor information, GPU, and the serial number, which is most important if you want to claim a warranty.
So by seeing the year of your Mac, you can calculate how old is your Mac, and if you are planning to sell it, you can price it according to the market rate.
Note: Apple Macbook Pro (Early 2020) will be different in specs and model from Apple Macbook Pro (Late 2020)
Finding the Age for Your Mac Using Apple Support
If you don't have access to your Mac or your Mac is not turning on, you can still find the age of your Mac by using the serial number.
It is a number used as a unique identifier for your Mac. It can be found on the purchasing invoice or on the box On which Mac arrived.
But if you don't have access to the invoice and box, you can still find it at the back of Mac. It is a white sticker having a string of characters and numbers printed on the back of the Mac.
Alternatively, If you have access to your Mac, you can find the serial number by clicking on the Apple logo in the upper left corner and select About this Mac. In the Overview windows that appear, locate the serial number and copy it.
Follow these steps to find the age of Mac using serial number.
Once you find your serial number, Now go to the Apple check Coverage page.
Paste the serial number in the Box, Solve the captcha, and click Continue.
You will see a page having the age of your Mac.
The page will also show information about the warranty status of your Mac and AppleCare+ coverage.
If you still didn't find the age of your Mac or you are not sure don't worry Apple also have helpful guides and information to help you find the Macbook model and other information related to Apple product on the Apple website.
FAQ(How Old is My Mac)
Below are some most commonly asked questions related to how old is my Mac.
How long should Macs last?
The average life span of a Mac or any laptop depends on the usage. If you are using your Mac with care, it can last from 5 to 8 years.
Which lasts longer MacBook Pro or Air?
Both the Macbook Air and Macbook Pro is equipped with an M1 chip, which makes them equally fast and powerful, But the built quality of the Macbook pro is rigid and can last longer than Macbook Air
Final thoughts on How Old is My Mac
Knowing the age and specification of your Mac can be handy in many ways. While most of the Macbook models seem similar, but there is a huge difference in their specs. For example, the 2019 and 2020 Macbook Air might look the same, but their specs will be different.
Let us know in the comment if you still have any questions regarding how old is my Mac?