More consumers are getting laptops for both personal and business use nowadays. Their portability and functionality make them an integral part of our daily lives. It's no wonder laptops have become such an important part of our lives. We can just grab them and go.
Unfortunately, as much as it is easy for us to do such, it is also easy for someone to steal them. As the rise in laptop purchases continues, the threat of robbery is lurking around, unfortunately.
While it is not always common, we surely want to proactively secure our highly valued devices. Or, if in case the worst thing happens to us, we'd want to make sure the thieves won't be able to access our files or sell the device again.
The good news is that there are many ways for you to track a stolen laptop to secure your device and data. And they don't always require a high level of technical proficiency. Let's read on to know more about them!
You May Like :
How To Access Laptop Camera Remotely
4 Ways to Track A Stolen Laptop
1. Track a stolen laptop with a serial number
As you know, a laptop's serial number is its principal form of identification. But usually, they are helpful mostly for immediate recognition. Realistically, a product's serial number isn't enough to track a laptop. It cannot pinpoint your device's exact position or precise location. However, it can be used alongside tracking software to detect and identify your device.
Knowing that manufacturers are constantly monitoring the devices purchased from them, you can also seek their help and ask for device-relevant information as they can easily provide it for you. Some of their customer care services also collect the serial number when you send a complaint regarding your stolen laptop. If you also file a police report, knowing your laptop's serial number will greatly help officers further substantiate their conclusions.
2. Using installed tracking software
If you have tracking software installed on your stolen laptop, you can also open the same software using your smartphone. If your missing laptop was registered there, you may also get more information about the movements on your device. This way, you may be able to locate your laptop.
3. Using your device's default tracking features
Whether your laptop runs on Windows or Mac, if the default "Find my device" and other features like GPS tracking are enabled, you may be able to have your stolen laptop traced.
"Find my device" is a new pre-installed feature in Windows 10 that signals the precise location of the gadget, allowing real owners to locate their laptop and lock or wipe their device even remotely. To activate this feature on Windows, below are the steps.
Select "Windows Settings."
 Click on "Update & Security"
Switch on 'Find my device."
Once activated, check the recent sign-in or log-in location of your laptop
For Apple users, You can also use the Find My Mac Device to track your missing Macbook. Consider the steps below:
Visit your dashboard and choose "System Preferences."
Type down your Apple account information and log in to iCloud
To activate Find My Mac, select the option and choose "Allow to Confirm."
To begin tracking your device, log in on iCloud's website using your Apple ID
Select "Find my phone" and choose "Missing MacBook."
The precise location of your MacBook will be displayed
4. By tracking the laptop's Mac or IP address
The last and the best way to trace your stolen laptop is by tracking its Mac or IP address. A Mac or IP address is a unique ID assigned to your device while connected to the internet so that it can be easily identified.
The Internet Protocol (IP) address is a more rational way to track your device. Through this, you can not only reach your internet service provider but can also fully access your missing device's location and address. It also greatly helps to get your laptop's IP address if you've logged in to any of the following: Dropbox, Facebook, or Gmail. Here are the steps to harness these platforms to get your laptop's IP address.
For Facebook 
 Log in to your Facebook account through your new device
Click on the "Security and login" settings and choose "Where you're logged in."
Check out suspicious activities, and when you hover your cursor on them, you can get their IP addresses
Gmail
Open its web version and get into your inbox
Scroll down to the bottom and click "Details" under the "Last account activity."
There, you'll see a new window that shows all the account activity details with their IP addresses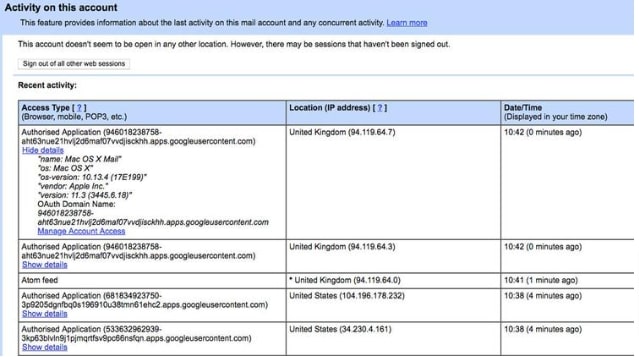 Dropbox
In the upper right corner, select your account symbol.
Choose Settings and then Security.
Scroll down to the browser's area, and in the most recent activity column, you can check the information symbol for your chosen device
FAQ (How to Track A Stolen Laptop)
Can a stolen laptop be tracked without Internet?
Like all other device tracking, locating functionality in Windows 10 using GPS and IP tracking requires that the device be connected to the Internet.
Can a laptop be tracked after factory reset
Your computer may already have the needed tracking software. Absolute Software's Lojack for Laptops is embedded in most laptops' BIOSes. This way, your computer may be tracked even after the thieves have wiped the hard drive.
Can I track my laptop with Google?
Select "Security" and find "Your devices." Select Manage devices and locate your lost device, tablet, or Chromebook. The last time the device was used and the last location it was at will be displayed.
Can police track a stolen laptop
GPS tracking chips or monitoring software, which can be installed on a laptop before purchase, help police track it. These components, which might also involve hardware, are installed on the laptop to help identify and locate it if it is stolen.
Wrapping Up
Laptops are highly sensitive and valuable piece of equipment. You do not want to risk losing it or having it stolen. Fortunately, modern laptops come with built-in tracking features and have software that can help keep them trackable. You can also use the serial number of your laptop to track it down remotely.
Another important step you can take is to have your device's default tracking features activated. This can help you get your laptop back again.
As a last resort, you can request your device's location through its Mac or IP address. That way, you can find your missing device and get it back.