Taking a screenshot on an ASUS laptop is one of the most frequently asked questions since it isn't always clear how to do so. It's straightforward on some laptops and more difficult on others.
The good news is that this is really simple to do. So, I'll demonstrate to you how to take screenshot on Asus laptop using easy keyboard shortcuts and how to screenshot the current windows or a portion of the screen.
A screenshot is an image of the information, data, or visual representation of data shown on a computer or mobile device's screen. It can also be referred to as a screengrab or a screen capture, which refers to capturing an image of what is displayed on the screen.
How To Screenshot On Asus Laptop Using PrtSc
If you ever wondered how to screenshot a screen on an Asus laptop, all you had to do was look at your keyboard. The PrtSc key (or PrtScn, Print Screen) is located in the upper-right corner of the top row of keys.
Option 1: Press PrtSc For Taking Screenshot and Save it to Clipboard
The system takes a photo of your entire screen after pressing this button, then stores it to your Clipboard, where you may paste it into any picture editing software to preserve. The effect will be the same if you use the Ctrl + PrtSc key combination on your keyboard.
Note: It will not save the image to your system. It's only on your Clipboard and, if you copy anything else before saving the screenshot, you'll need to capture it again.
Option 2: Press Windows + PrtSc For Taking a Screenshot and Save It Automatically
If you'd rather have your entire-screen screenshot saved to your PC rather than the Clipboard, pressing the Windows key (or Start button) along with the PrtSc key will do the job.
Option 3: Press Alt + PrtSc To Screenshot the Active Window
On laptops from Asus, your final built-in screenshot capturing alternative is to use Alt + Print Screen. This function allows you to screenshot an active window.
Unfortunately, the photo isn't stored on your hard drive when it's taken. Instead, it is copied to your Clipboard and must be pasted into an image editing software like Paint or photoshop to be saved. This also applies if you want to modify the screenshot.
How To Screenshot On Asus Laptop Using The Snipping Tool
The Snipping Tool is a well-designed Microsoft Windows screenshot tool that allows users to take screenshots without difficulty, and it's included in Windows Vista or any latest windows version.
Follow these steps to take a screenshot on an Asus laptop using the built-in Snipping Tool
Step 1) To go forward, Press the Windows logo key on your laptop keyboard and type Snipping Tool in the windows search box. There's no special key to activate the Snipping Tool.
Step 2) Select and start the Snipping Tool from the search result, then click New in the upper left corner of the screen.
Step 3) Select a portion of the PC display by dragging your cursor and releasing it.
Step 4) Finally, click the Save snip button to save the new screenshot immediately. That's all there is to it!
How To Screenshot On Asus Laptop Using The Snip and Sketch Tool
The operating system on Asus laptops, like Windows, contains many built-in screenshot editing tools to assist you in taking and modifying screenshots.
You may easily take a screenshot on your Asus laptop using the built-in snip and sketch tool. You can also alter your snip and sketch with various editing choices accessible in this program.
Open the snip and sketch tool by typing snip and sketch in window search
Once snip and sketch software is opened, Then Click New In the upper right corner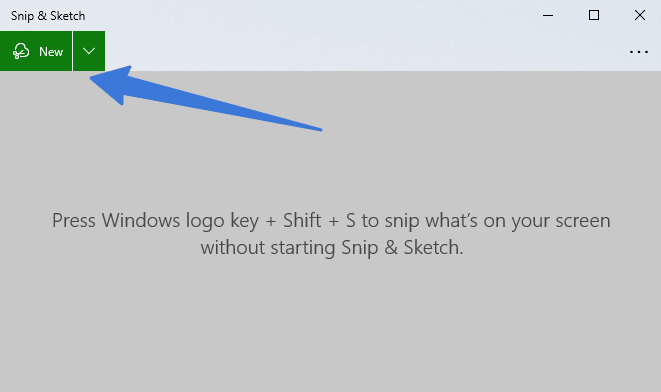 Select the type of screenshot you need and take the screenshot
Edit the screenshot using a different editing option
Press Ctrl + S to save the screenshot
Take Screenshot on Asus Using Windows 10 Game Bar
The game bar, also known as the Windows Game Bar, is a built-in program in Windows that's primarily intended for gamers to record their games and offer you the option to take a screenshot on your laptop.
To start, open the game bar with "Windows key + G" to capture screenshots using the game bar. If your game bar isn't visible, pressing this key combination will display a game bar menu.
Open the game bar by searching for "game bar" in the search box, selecting it from the drop-down menu, and then click Open. After opening it, you can capture a screenshot by clicking on the camera symbol in the capture menu.
You can also use the game bar to record screen recordings. You can then view your screenshot in the Videos > Capture Folder or under the camera icon, which is labeled "Show all captures," once you're done.
Video Guide for Screenshot on Asus Laptop
FAQ(How To Screenshot On an Asus Laptop)
How do I screenshot on Asus laptop?
To screenshot the Asus laptop screen, press the Windows key + Prt Scr button; to take a screenshot of the active window in Asus laptop, hold down Alt + Print Scr.
How to take a screenshot on ASUS Vivobook?
The [Ctrl] + [PrtScr] keys can be used to take screenshots on the Vivobook. It usually captures a screen, and the screenshot can then be pasted into any image editing program like Paint or photoshop.
Where do my screenshots go on my Asus laptop?
To take screenshot on Asus laptop, hit the Windows key + PrtScn. The screenshot will automatically be saved to C:\Users\ [YOUR NAME] \Pictures\Screenshots.
Conclusion:
Hopefully, this article has provided you with some information on how to capture a screenshot on an ASUS laptop. There are many methods for taking a screenshot, but newer versions of Windows make it easier and simpler all the time.
Please feel free to leave a comment below if you have any questions or need further assistance with taking screenshots on your ASUS laptop.
You May Like:
How to Screenshot on Toshiba Laptop
How To Screenshot On Samsung Laptop
How to Clean Laptop Touchpad – 5 Simple Steps