You have been looking for a way to factory reset your laptop but have been unsure how long it will take.
In this article, we discuss the time required for a factory reset and how to perform the action. We also talk about common mistakes people make when factory resetting their laptops and what you can do to avoid these pitfalls.
I'll also show you how long does it take to factory reset a laptop, depending on a number of factors.
How Long Does it Take to Perform the Factory Reset?
Factory resets allow you to clear out any unnecessary data and start fresh to make the machine perform better than when it was brand new. However, if done incorrectly or with insufficient time, it can result in your files being irreparable or lost completely.
Sometimes these issues may arise by accident; other times, they occur because people do not fully understand what is needed for factory resetting their laptops.
It takes about 30 minutes on average or up to 3 hours, and in some exceptional cases, it can take a day for factory reset on a laptop or PC.
The time it takes for a factory reset on a laptop depends on the operating system (Windows, Mac OS, or Linux ) used the speed of your processor, Ram Installed, and the amount of data you have on your laptop or PC.
You May Like:
What is a Factory Reset?
Factory reset is done by either formatting or discarding the data and settings on a laptop to bring it back to factory defaults which means moving everything in its place. These factors include removing all files, partitions, and configurations and starting over with factory default settings
How does Reset This PC work in Windows 10
The Reset This PC option deletes all your personal information, settings, and programs. It sounds terrible, but it's quite a good option when you are facing an issue on your laptop, and after trying several methods and spending hours, you didn't find out what to do.
It has two options, Keep my files and Remove everything, so users can pick which data to keep on the disk. It will remove all of the apps that have been installed, but it will preserve only the ones that came preinstalled. Let's look at what else we need to know.
Keep my files option: Picking this option will not delete any of your personal files that you have installed and will instead delete the old files of windows and installed fresh windows.
Remove everything option: This option will not only fresh install your windows but will also remove all of your personal software and files that you have installed later on your windows.
How to Perform a Factory Reset on Laptop
Now that you've seen how long it takes for a laptop to factory reset, the next step is to understand the factory resetting procedure. If you want to keep the data or clean the disk during the reset process, you must choose the right option as the wrong choice of option can lead to data loss. The following steps can help you correctly reset your laptop or PC.
1. Go to Settings. You may reach this screen by clicking the gear symbol on the Start menu.
2. Click on 'Update & Security' at the top of your screen.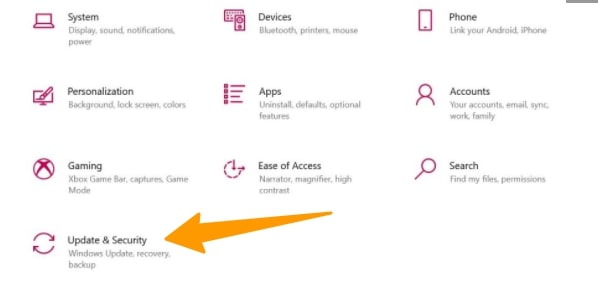 3. Go into the left pane and select Recovery in the drop-down list.
4. The options windows s will give you are:: Reset this PC; Back to Windows earlier versions; and Advanced startup. For a clean slate, restarting your PC is the ideal alternative.
Go back to the earlier version let you roll back to your previous version, but it will be only available if you upgrade your Windows 10 to the latest version of Windows 10.
While the advanced startup option lets you open advanced troubleshooting modes by a recovery Drive or Disc.
5. Under Reset this PC, choose the option to Get started.
6. You can decide if you want to keep your data files or not. If you don't, click Remove everything; it will erase all your files, photos, and programs. Apps will be uninstalled in either case because all of your settings will revert to their defaults, and data files will be deleted.
However, if you erase the drive to ensure that the next owner doesn't recover your deleted files, cleaning it will take longer. If you're keeping the computer, choose to Keep my files rather than Delete my files.
7. The next stage is to select whether to install Windows via the cloud or on your computer (from your device).
8. Simply click Next if Windows warns you that restoring to an earlier version of the operating system will not be possible.
9. The Reset Option will be prompted, and after clicking on it, windows will then restart several times to reset completely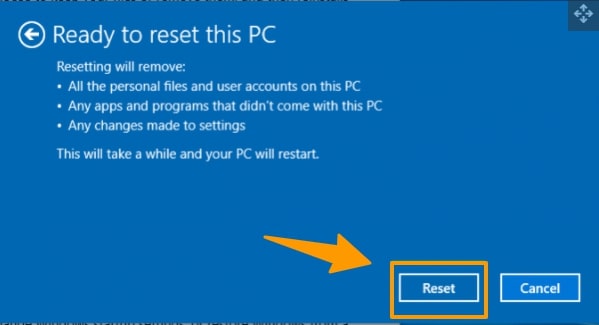 Video Guide to Reset Windows 10 To Factory Settings
How to Perform a Factory Reset on Mac
Factory resetting a Mac laptop is simple, whether you have a MacBook Pro or an iMac. The following procedures will assist you in factory resetting your Mac laptop.
Start by logging out of all of your Apple accounts, including iTunes and Messages.
Restart your computer
During the Restart, press and hold Command+R on your keyboard.
Select "Disk Utility." Select your hard drive from the drop-down menu.
Select Erase to erase your hard drive and close the window
Select Re-install Mac and press Continue.
Click Restart after it's finished, then turn it off and on your computer again. This will restore you to how things were before performing a factory reset.
It should be apparent from the above procedures that a Mac factory reset is simple. If you have any more queries, the Apple website has plenty of information on how to reset your Mac.
After your laptop has been reset to the factory settings, you'll need to reinstall all your programs. If you previously backed up your data, connect the backup drive and restore the files to your Mac.
Tips For Resetting Your Laptop or PC
I am sure that the above steps will clear your thoughts regarding how much time it takes to reset the laptop and how you can perform the reset of the laptop
If you have any more questions, the following suggestions may assist you in performing a factory reset on your computer without problems. These Tips will make you more knowledgeable regarding the reset process, so you never encounter an issue during the reset process.
If you wish to save valuable files, it's essential to backup them before performing a factory reset on your laptop. External hard drives or various cloud storage methods may be used to back up data.
If you're giving away or selling your laptop and want to wipe all of your data, remove everything rather than Keep my files.
When factory resetting, be sure to have enough battery or keep the laptop plugged in. This will ensure that the computer does not turn off while it is being reset.
When you consent to share your data with a third-party firm, be cautious. For example, if you're creating an account on social media, the company may request permission to gather personal information about you. Read the small print and inquire about the company's privacy standards before agreeing to give them access to your information.
If you can't locate files after performing a factory reset on your laptop, try installing everything manually rather than using system restore or a full factory reset. This should make finding and replacing the missing data much easier.
When your laptop is being reset, having a solid internet connection is useful. This will ensure that you can easily reinstall the required applications on your computer. You may run into problems installing programs on your laptop if you factory reset it and don't have a connection.
FAQ(How Long Does it Take To Factory Reset a Laptop)
How long does it take to reset an HP laptop?
It takes around 15 minutes to reset an HP laptop. The process doesn't have to take some time, but it usually takes about 20-30 minutes, depending on how much data you have stored.
How long does it take to reset a PC Windows 8?
This process should take approximately 30 to 60 minutes on Windows 8, but larger hard drives could take much longer. When the reset is finished, your computer will restart and keep all of your documents and personal information.
How long does it take to reset a Lenovo laptop?
A Lenovo laptop takes between 30-40 minutes to reset the device depending on the file size and operating system used. During this time, users should not disconnect from WiFi or start using the computer.
Resetting Windows 10 taking too long?
You have to follow the steps below if your windows 10 is taking too long to reset.
1)Wait for some hour because sometimes reset take a long time
2)Disconnect the Internet connection.
3)Change the BIOS settings.
4)Run Startup Repair.
5)Remove all traces of your old operating system. Back up all files, settings, and programs on the PC. Reinstall Windows without reinstalling any
Conclusion
The amount of time it takes to factory reset a laptop is determined by a number of factors. If the computer has been in use for a long time and has been open for several years, it may take longer to factory reset than a laptop that has just been opened.
Similarly, for Mac, the amount of time it takes to reset depends on the data stored in it and the model of Mac.
Hopefully, after reading this article, your question regarding how long it takes to reset your laptop is fully answered; if you still have any questions, comment below.