PC and laptop technology in the modern era is impressive. When you have to be very active simultaneously and perform many tasks, you need an external monitor. If you have Dell laptops but don't know How to Connect Dell laptops to Monitor?
In this article, we explain the process to connect your Dell laptop to an external monitor and enjoy your multitasking experience.
Can Dell Laptop Connect to an External Monitor?
Dell laptop motherboard has a built-in graphic card adaptor port that allows the dell laptop to connect to an external monitor.
You can connect any external monitor to a compatible dell laptop. You don't need a dell brand monitor.
Most laptops have multiple ports for an external monitor like HDMI and VGA if laptops have multiple ports. The best among these ports is the display port.
You May Like:
How to Connect 3 Monitors to a Dell Laptop Docking Station
How to Find the Right Charger for my Dell Laptop
How to Connect Dell Laptop to Monitor
Follow the below steps to easily hook your external monitor to a Dell laptop.
The first thing you have to make sure is you have the latest graphic driver installed If you are not sure you can go to Dell Drivers and Download page. It will automatically detect your Dell laptop model and now you can install the latest drivers from there if your driver is not up to date.
Identify the ports present on your external monitor and most importantly dell laptop. Dell laptops support almost all the standard ports including
After identifying the port on your dell laptop now, you have to find the compatible cable for those ports connect one end of the port e.g. HDMI to monitor and the other end to the dell laptop both the cable end are identical, So which one goes at which end doesn't matter
After connecting the external monitor and dell laptop, you can use keyboard shortcuts to switch between the display. For this, you have to press the FN+ F8 key. If the FN+F8 keys don't work on your laptop, try another F1 to F12 with an FN key.
Configure the display setting by going to Setting > System > Display in windows 10 to optimize the display setting of each monitor.
Dell Laptop External Monitor Setup in Windows 10
If the external monitor configurations are not working using the shortcut keys, you can also set them up in windows 10. Below are the steps mentioned to do different configurations on your dell laptop and external monitor.
Right Click anywhere on Desktop
Scroll down to Multiple Display
Select Different options from there like extended,Duplicate Etc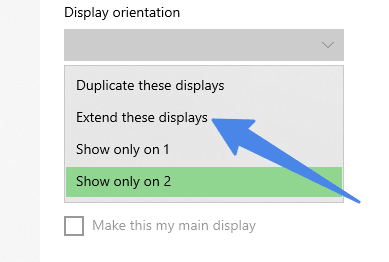 How to Connect Dell Laptop to Monitor Wirelessly
First, ensure that the external wireless monitor is powered on, and if using Miracast adapter or Dongle, make sure it is plugged into the display properly following the manufacturer's instructions on your windows 10 pc make sure that wifi is also turned on.
Next to the Windows taskbar click on the action center which is the icon located in the far right bottom corner of the screen select connect from the group of tiles.
Another menu will appear with available devices shown if you don't see the one you want to use search for turn on Bluetooth to discover more devices select the display you want to connect to and follow any additional on-screen instructions.
Summing it up
After reading this article, we hope you will find the answer to your question on How to Connect Dell Laptop to Monitor. The method mention in the article is simple and can be easily done in 5 to 10 minutes if you have all the hardware available.